Beaches
SENTOSA BEACH COURTS
Bask in the sun as you show off your sporting prowess through beach court activities. At The State of Fun, we accommodate a number of beach courts located at different points of the beach — Siloso, Tanjong & Palawan.
Get your daily dose of fun through endless hours of competitive fun with your gang. A stress relieving activity that is made perfect for the beach lifestyle.
---
For trainers & coaches
For any commercial activities on the island, please email us at corptix@sentosa.com.sg for further assistance.
---
(Beach Court Bookings for 14 & 15 Aug, opens on 13 Aug, 12am)
Court-based games will be permitted at the following beach segments, with a maximum of three courts in each segment: Tanjong Zone 1, Palawan Zone 1,2,3 and Siloso Zone 1 and 2. Guests may set up their courts only at marked locations within these segments.
| Beach Courts | Nos. |
| --- | --- |
| Siloso Zone 2 | 3 courts |
| Palawan Zone 1 | 3 courts |
| Tanjong Zone 1 | 6 courts |
| Tanjong Zone 2 | 3 courts |
Palawan Beach (3 Courts)

Siloso Beach (3 Courts)

Tanjong Beach (6 Courts)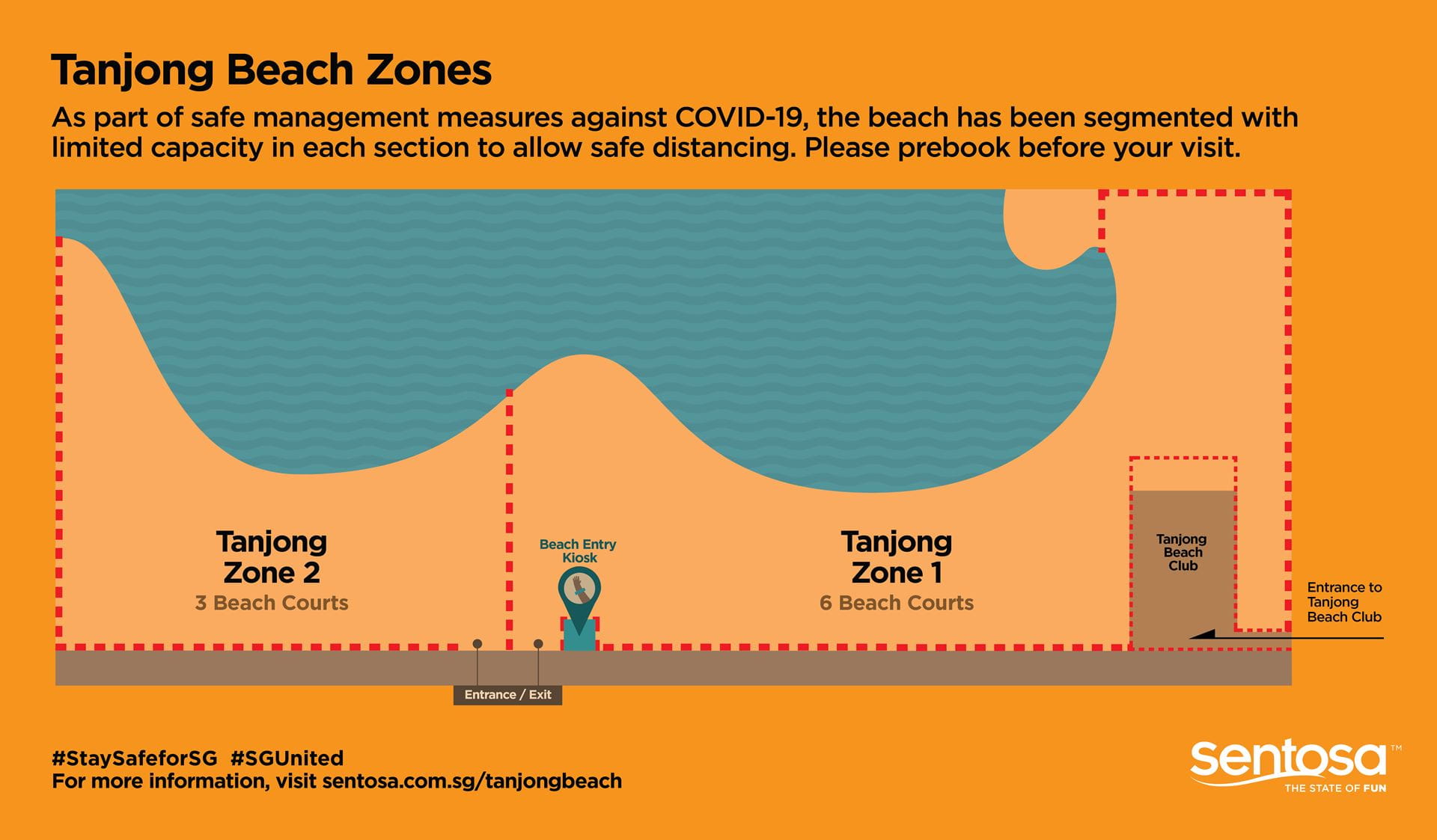 For your safety, only five persons are permitted to use each court at any one time. No inter-mingling between groups or courts is allowed. Click here for more information.
OPENING HOURS
Beach opens all day on Weekdays
Mon: Opens at 7am
Fri & Eve of PH : Closes at 10pm
Beach Bookings (Required for Weekends & PH)
Sat, Sun & PHs: 8am - 7pm
Session 1: 8am - 1pm
Session 2: 2pm - 7pm
Sentosa Pavilion (Sapphire Pavilion, Emerald Pavilion): 8am to 7pm
Loading...