MAKE TIME FOR A HOLIDAY: WHAT YOU CAN DO AT SENTOSA
The news you've been waiting for: Singapore's phase 3 reopening on 28 Dec 2020
Much to our relief after being cooped up at home, we can finally head out to the sunny shores (group up to 8 pax)!
It's time to take a breather outside and spend time with your friends and loved ones.
Reclaim your fun as you #MakeTimeForAHoliday.
Your island adventures awaits!
Figuring out where to go? Follow Island Boy and uncover the wonders of The State of Fun. Here's a list of island boy's itinerary as you #MakeTime for a holiday. Giving you a dose of inspiration, you can now visit various attractions, selected F&B outlets and beach bars.
Click here to find out more.
Holiday Deals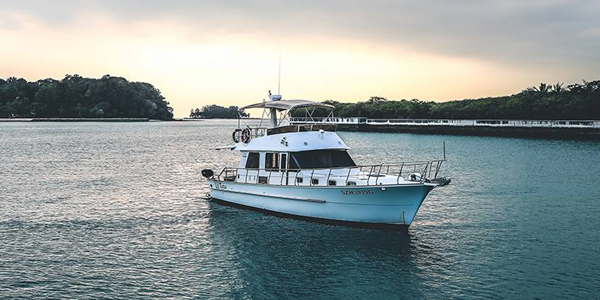 Wait… there's more! Let's not forget about the awesome Holiday Deals we've gathered for you. If you've been feeling a bit cooped up at home, make time for a relaxing lifeline of a getaway on Sentosa. All you have to do is click, book, and be transported to that much-deserved vacation.
Check out the Holiday Deals here.
Planning on redeeming your SingapoRediscover voucher? Check out a complete guide on how to redeem your vouchers on The State of Fun.
---
We know you're excited to get back… but we can only have you here if we can all stay within the safe management measures when visiting.
What's up?
Our beaches — Siloso, Palawan, and Tanjong beaches have reopened. Make sure to reserve your entry to any of our beaches, Palawan, Siloso and Tanjong before your visit. If you're planning to play some beach volleyball or any court-based games, you can make a reservation to play at any one of the 15 available for booking.

More on Beach Reservation System, Click here
Dining-in at your favourite beach hangouts, as well as the many restaurants on the island will progressively resume, with dine-in capacity of 8 pax. Find out more details at each outlet's page at our Dining Section.
You can visit all areas at Fort Siloso and the Fort Siloso Skywalk. Fort tours and programmes have resumed during this period.
Attractions such as Madame Tussauds Singapore, Universal Studios Singapore, S.E.A. Aquarium, iFly Singapore, and Skyline Luge and the casino at Resorts World Sentosa have progressively opened as well. Find out which venues are opened at our Attractions page.
FREE ISLAND ADMISSION: from now until 31 March 2021, you can enter Sentosa via Sentosa Express, and drive in for free!Terms & conditions apply*
As a further precautionary measure, do note that attractions will have restrictions on their operating capacity. Access to the casino will also be limited to existing casino members and annual levy members only. Other attractions in Sentosa will remain closed.
Redemption of car park coupon for Islander Individual Members is available at Islander Ticketing Counter, Beach Station between 11am – 8pm daily. Redemption of birthday voucher is not available till further notice.
Always #maketime to stay safe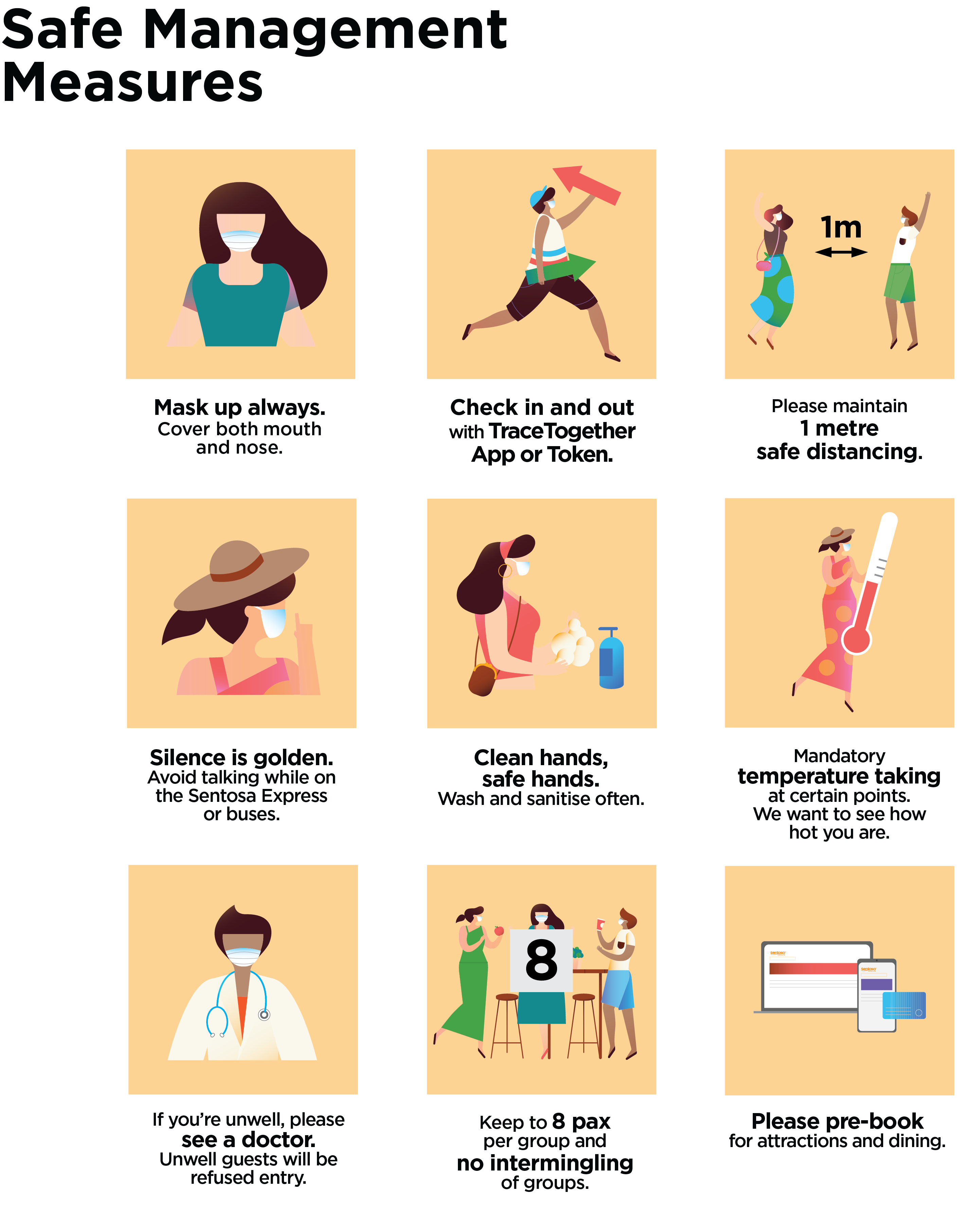 As we welcome guests back to Sentosa, it is important that we ensure Sentosa remains safe for all guests. To ensure safe distancing while you enjoy the sun and sand, do note that bookings are required for entry into popular areas of Sentosa's beaches during weekends and public holidays from 1 October 2020.
Guests will be required to use controlled entry and exit points when visiting parts of Tanjong, Palawan, and Siloso beaches. Guests who are temporarily leaving these beach areas (eg. to use the restroom) should approach on-ground officers for a beach re-entry pass.
Guests are required to scan SafeEntry QR codes, TraceTogether App/Token when entering or exiting the beaches, to facilitate contact tracing if necessary.
Safety Rings will progressively be put in place at popular areas on the beaches, to encourage guests to observe safe distancing by indicating spots where small groups of up to five may gather. When using these Safety Rings, groups should keep within the demarcated area and observe a minimum distance of one-metre from other groups and guests
Should a segment of the beach be crowded, guests may be directed to other segments.
For your safety and well-being, do note that all guests visiting Sentosa will be required to observe safe distancing and adhere to the prevailing safe management measures, such as:
Always wearing a mask, except when you are consuming food, drink or medication, or engaged in strenuous exercises
The use of SafeEntry, TraceTogether App/Token to check in and out of all premises, including at our beaches and nature trails, to facilitate contact tracing efforts if required
A one-metre safe distance between individuals - In instances where it is not feasible or practical to apply a one-metre safe distance between individuals, this one-metre requirement must be observed between groups
Starting from 28 Dec 2020, a limit on group sizes to not more than eight persons, with no mixing between groups of guests
Queue management systems to ensure that there is a safe distance between everyone. We seek your understanding that should venues reach their maximum occupancy capacity, guests may be restricted from entry.
Your safety and wellbeing are of utmost importance to us and we seek your cooperation in observing these measures to ensure that everyone can enjoy Sentosa in a safe and responsible manner.
We would like to assure everyone that various precautionary measures will continue to be in place across Sentosa, such as an increased frequency of cleaning and disinfection of common and high-touch areas, as well as temperature screening, among others.
Getting to and around Sentosa
Sentosa Express trains will operate from 7am - 12am daily
Beach Shuttle services will operate from 9am - 10pm (Sun to Fri) and 9am - 12am (Sat)
Bus A and Bus B will operate from 7am - 12.10am daily, while Bus C will resume services from 1 July 2020
The Beach Carpark, Tanjong 1 & 2 Carparks, Imbiah Carpark, and Sentosa Cove Village Carpark will be open
Guests may also choose to travel via SBS Transit's Service 123 and taxis/private hire vehicles, or stroll to and from Sentosa via the Sentosa Boardwalk
RWS8 will operate only during the following hours: 6am - 9am, and 6pm - 9pm
We thank you for your understanding. Meanwhile, let's look out for one another, and keep safe. Should you have any queries, do reach out to us at guest_services@sentosa.com.sg.
Please visit www.moh.gov.sg/covid-19 for official updates on COVID-19.