KEEPING IT FUN AND SAFE FOR EVERYONE
As we welcome guests back to Sentosa, it is important that we ensure Sentosa remains safe for all guests. To ensure safe distancing while you enjoy the sun and sand, do note that entry into popular areas of Sentosa's beaches will be regulated:
Guests will be required to use controlled entry and exit points when visiting Tanjong, Palawan, and Siloso beaches, as well as Palawan Green. Guests who are temporarily leaving these beach areas (eg. to use the restroom) should approach on-ground officers for a beach re-entry pass.


Reservation for beach entries and beach courts are required during weekends and public holidays.





Guests are required to scan SafeEntry QR codes when entering or exiting the beaches, to facilitate contact tracing if necessary.
Safety Rings will progressively be put in place at popular areas on the beaches, to encourage guests to observe safe distancing by indicating spots where small groups of up to eight may gather. When using these Safety Rings, groups should keep within the demarcated area and observe a minimum distance of one-metre from other groups and guests
Should a segment of the beach be crowded, guests may be directed to other segments.


Court-based games will be permitted at the following beach segments, with a maximum of three courts in each segment: Tanjong 1, and 2, Palawan 1A and Siloso 2. Guests are required to reserve entry for beach courts courts locations within these segments. For your safety, only eight persons are permitted to use each court at any one time. No inter-mingling between groups or courts is allowed. For more information, please visit: https://www.sentosa.com.sg/beachreservations
Beach opening hours are from 8am to 7pm. Last entry 6pm.


The Emerald Pavilion and Sapphire Pavilion are open from 8am to 7pm daily.


Tents, hammocks, shelters, and large beach parasol/umbrellas are not allowed on Tanjong, Siloso & Palawan beaches until further notice.
---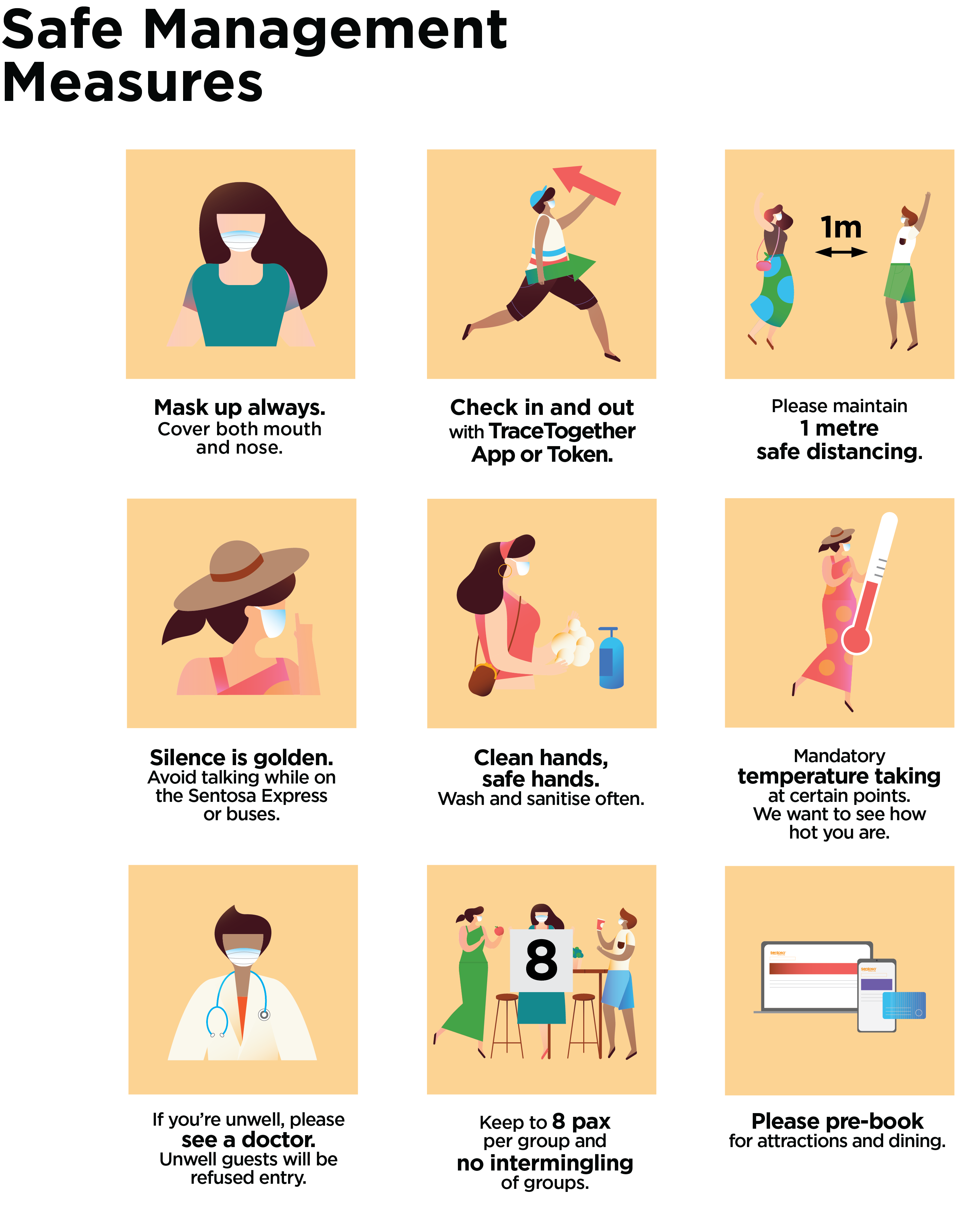 For your safety and well-being, do note that all guests visiting Sentosa will be required to observe safe distancing and adhere to the prevailing safe management measures, such as:
Always wearing a mask, except when you are consuming food, drink or medication, or engaged in strenuous exercises such as jogging
The use of TraceTogether App or Token, SafeEntry to check in and out of all premises, including at our beaches and nature trails, to facilitate contact tracing efforts if required
A one-metre safe distance between individuals - In instances where it is not feasible or practical to apply a one-metre safe distance between individuals, this one-metre requirement must be observed between groups
Starting from 28 Dec 2020, a limit on group sizes to not more than eight persons, with no mixing between groups of guests
Queue management systems to ensure that there is a safe distance between everyone. We seek your understanding that should venues reach their maximum occupancy capacity, guests may be restricted from entry
To prevent queues, please book a table in advance at all restaurants, where possible.
Your safety and wellbeing are of utmost importance to us and we seek your cooperation in observing these measures to ensure that everyone can enjoy Sentosa in a safe and responsible manner. We would like to assure everyone that various precautionary measures will continue to be in place across Sentosa, such as an increased frequency of cleaning and disinfection of common and high-touch areas, as well as temperature screening, among others.
We also strongly encourage you to continue to practise social responsibility in upholding good personal hygiene and safe distancing principles, including washing your hands regularly, wearing a mask at all times, and seeing a doctor immediately if you are feeling unwell.
Please be assured that our premises are SG Clean certified.

We thank you for your understanding. Meanwhile, let's look out for one another, and keep safe. Should you have any queries, do reach out to us at guest_services@sentosa.com.sg.
Visit www.moh.gov.sg/covid-19 for official updates on COVID-19.