Island Guide
TOP THINGS TO DO IN SENTOSA THIS FEBRUARY
Valentine's Day, Lunar New Year ideas on The State of Fun!
Prepare for a tremendous amount of fun, because Sentosa now has several new activities on the island this February. From nature meditations to underwater undertakings, these events promise a good time. Now without further ado, here are the top things that you can do in Sentosa this February!
---
Do note that all guests must wear masks, check in and out via SafeEntry and have your temperature screened before entering the attractions and restaurants. There are plenty of signs and floor markers to guide you along. Find out more about our safe measurement measures here.
Madame Tussauds Singapore K-Wave Exhibit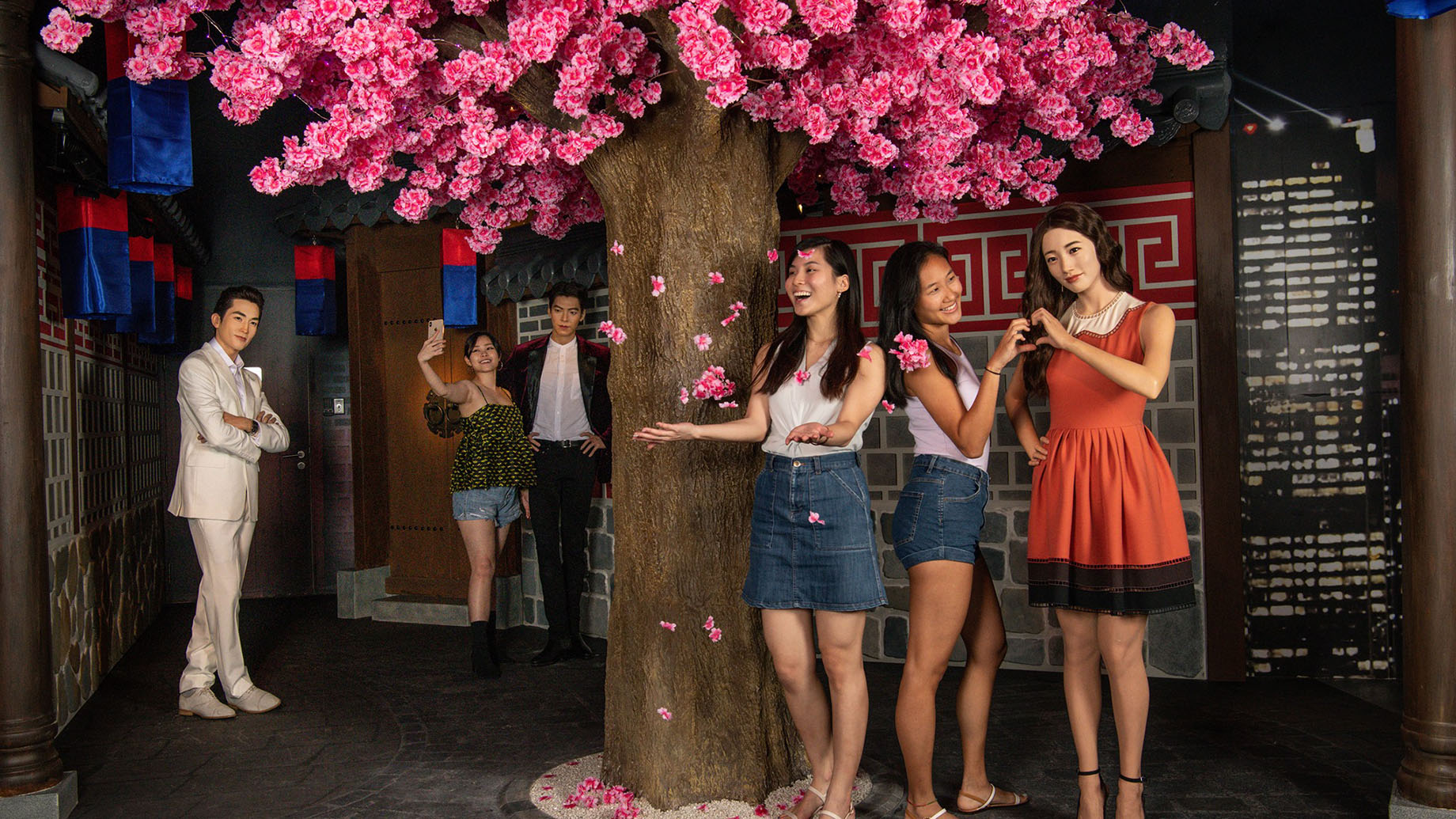 Madame Tussauds Singapore has created a travel bubble in their newly opened K Wave Exhibit, where you can undergo your very own 'trip' to Korea! Here, you can meet some of your favourite Korean stars and observe some of the scenic beauty that Korea has to offer. This exhibit is furnished with Korean scenes, from lanterns, to a cherry blossom tree, to a flower wall, this exhibit is full of Instagrammable opportunities for those who love all things Korean!
If you are a fan of Korean dramas, here's your chance to take a selfie with your favourite Oppa, Kim Woo Bin at the K-wave zone this February.
Spring in the Sea at S.E.A. Aquarium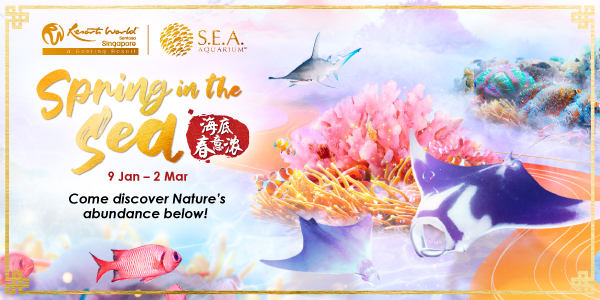 Fortune has found its way to S.E.A. Aquarium this Chinese New Year! Receive bountiful blessings as you not only discover incredible species of marine life, but also while you journey down the Trail of Fortune. On this trail, you can unearth gold ingots hidden along the path, while also meeting marine creatures who are living symbols of prosperity.
May luck and fortune smile upon you as you meet the mythical sea dragon, who can be found at multiple photo installations spread throughout the facility, a legendary photo opportunity!
For a limited time, Singapore Residents who purchase one-day admission tickets will receive a complimentary snack, such as a corndog, popcorn, and other options.
For more info on this Spring in the Sea event, click here.
Usher in the Fun at Universal Studios Singapore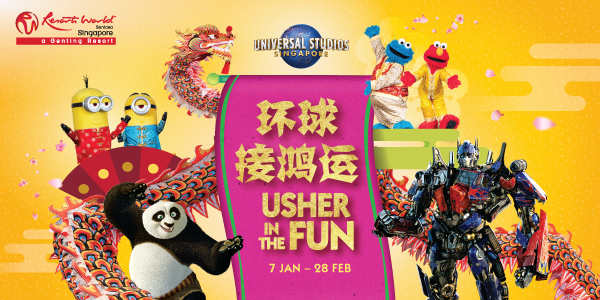 Universal Studios Singapore has unleashed its festive spirit through several surprises for this CNY! The Majestic Dragon meet-and-greet is a lucky opportunity to take photos with you and this legendary creature, alongside other exciting characters. There are several appearances of beloved characters in their very own festive attire across the park, like the hilarious Madagascar characters, the adorable Minions, the fan favourite Po from Kung Fu Panda, and many more!
Receive or witness an interactive experience with the leaders of both the Autobots and Decepticons, Optimus Prime and Megatron, who will surprise certain guests with greetings in Mandarin during meet-and-greet sessions!
This trip will be filled with fun, festivity, and fan favourite characters, a guarantee for a memorable day for the family during the CNY period!
To learn more on what's in store at Universal Studios Singapore this CNY, click here.
Aqua Gastronomy Spring Edition
Treat not just your taste buds, but all of your senses as you embark on S.E.A. Aquarium's auspicious multi-sensory dining experience, 'Aqua Gastronomy' Spring Edition! This dining treat takes place in light of the Open Ocean Habitat, S.E.A. Aquarium's massive ocean exhibit with all kinds of sea creatures and gentle giants, like leopard sharks and manta rays.
Here, you can indulge in a 5-course dinner where scents, flavours, and textures dance with each other in every dish, which are each inspired by one of the five fortunes, fortune, prosperity, longevity, joy, and wealth. Each guest will also receive a champagne cocktail to compliment the delectable dishes.
While you eat, be mesmerized as you listen to a tale from the Lady of the Ocean, who tells the legend of the Dragon Emperor and the Golden Ox, and as you behold the graceful sea creatures swim peacefully by.
Bless you and your loved one's senses this CNY on this epic excursion. To dive deeper into what this event is about, click here.
Magical Shores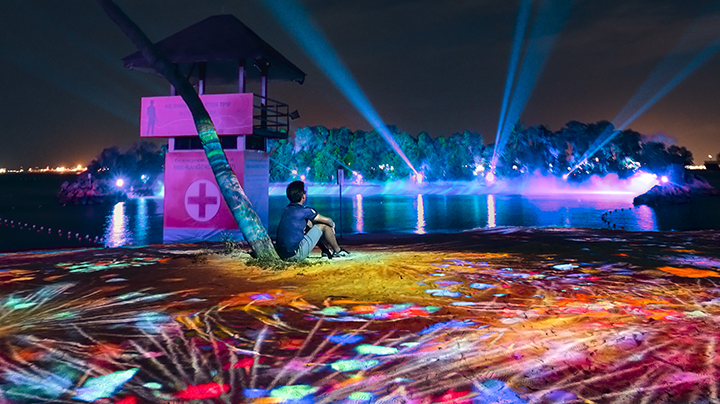 Have an extraordinary experience as you witness Siloso Beach transform into a visual and audial wonder. Magical Shores brings enchanting effects to the sand, sea, and sky of Siloso with interactive lights and captivating melodies. Watch as the sand and song respond to every step you take, making fish swim around your feet, waves ripple in your wake, or colours swirl around you, accompanied by reactions from the sound and music as well.
Magical Shores is a truly remarkable event to behold. After visiting, you'll never see the beach the same again.
This event occurs every Friday, Saturday, Sunday, public holiday, and eve of public holidays in two sessions, 7.30pm to 8.45pm, and 9.00pm to 10.15. Entry is free, but booking of your visiting slot is required beforehand—booking slots are open 5 days in advance.
For more on Magical Shores and the booking info, click here
Love on Cloud 9 at Cable Car Sky Dining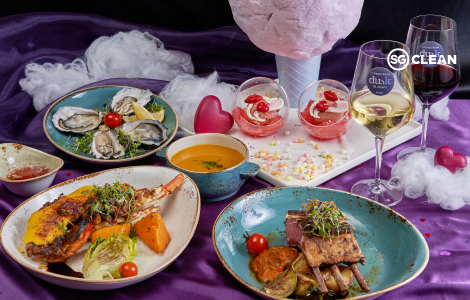 Dine in the skies this Valentine's Day with Singapore Cable Car! Indulge in a 4-course meal with your loved one as you admire glorious views of the sun setting over the harbour.
Share drinks and delightful dishes with one other as you spend some alone time together, free of distractions. Talk, laugh, and enjoy the assets that Singapore Cable Car has to offer with that special someone in your life.
With incredible food, incredible views, and incredible company, it doesn't get much more romantic than that.
To discover more on this deal and Singapore Cable Car, click here.