Nature Guide
THE FORESTS OF SENTOSA
Learn about the two tropical types of forests in Sentosa
Two types of tropical forests
What are the main differences between rainforests and coastal forests?

Rainforests are found more inland than coastal forests. Rainforest species of trees are generally taller and intolerant of salt in the wind and soil.

Coastal tree species grow near the coast are generally hardier – tolerating strong winds, salt influence in the winds and soil and sometimes flooded by seawater during high tides.

When we are walking from inland to the sea, it is not easy to observe the transition from rainforest to coastal forest, as this change is very gradual.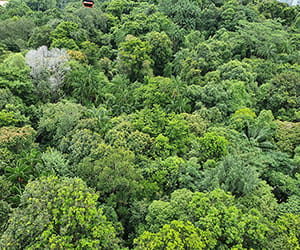 Secondary Rainforests are found at
Mount Imbiah and Mount Serapong
Coastal forests thrive
around our coastlines
---
Take a glimpse at the lush Coastal & Secondary forests of Sentosa

---
Animal Antics in Sentosa's Forests
Spot these animals on your nature rambles!

Long- Tailed Macaque
This is one of the most common monkeys in Asia - the Long-tailed Macaque (Macaca fascicularis) is also known as the Crab-eating Macaque. Watch this adult forage for one for its natural food, the fig. Our forest ecosystem also relies on these animals to disperse the seeds of plants. As such, we should refrain from feeding monkeys and other wild animals. Not only is our food harmful to the animals, but feeding could also alter their behaviour, making them aggressive.
Olive-backed Sunbird
A female Olive-backed Sunbird (Cinnyris jugularis) has just returned to their hanging nest to feed very hungry chicks.

There are seven species of sunbirds in Singapore, with the Olive-backed Sunbird and Brown-throated Sunbird (Anthreptes malacensis) being the most common. They are often mistakenly called "hummingbirds" because of their small size and nectar-feeding behaviour.
Yellow-barred Flutterer
This Yellow-barred Flutterer is a medium-sized dragonfly. It is one of the 35 species of Odonates found on Sentosa island. This dragonfly is often spotted in secondary forests and grasslands.
Golden Orb Spider
This very large spider is a female Golden Orb Spider (Nephila pilipes), on a huge web spanning 1.5 m in length. An insect was caught in the web and here the spider has captured its prey and wrapping it up for later consumption. When observing try not to touch the web or disturb the spider. If threatened, it can deliver a painful bite.
Bagworm Moth Caterpillar
This is a bagworm, the larvae stage of bagmoths. It is essentially a caterpillar that has built itself a casing and sometimes reinforcing this casing with twigs and other plant parts. The "decoration" for each species of bagworms is specific. Female bagworms stay in this larval stage all their lives and never metamorphose into moths. Can you also hear the sound of Cicadas in the background?