Island Guide
SINGAPOREDISCOVERS VOUCHERS: WHAT YOU CAN DO WITH YOUR $100 INCLUDING HOTELS & ATTRACTIONS ON SENTOSA!
Ready to explore Sentosa? Come redeem your vouchers at The State of Fun.
Make time for a holiday on Sentosa! You can redeem your SingapoRediscovers Vouchers to enjoy a host of exciting attractions such as Universal Studios Singapore, Mega Adventure Park, Madame Tussauds Singapore, and Nestopia or take a break at one of the participating hotels like Capella Singapore, and Amara Sanctuary Resort Sentosa.
---
Do note that all guests must wear masks, check in and out via SafeEntry and have your temperature screened before entering the attractions and restaurants. There are plenty of signs and floor markers to guide you along. Find out more about our safe measurement measures here.
HOW TO USE THE VOUCHERS
You can head to the following five authorised booking partner sites:
1. Browse Products

Browse products with the SingapoRediscovers Vouchers icon

2. Add to Cart

Add item(s) to shopping cart

3. Use SingapoRediscovers Voucher

When ready to pay, click on 'Use SingapoRediscovers Vouchers' at the checkout page

4. Login to SingPass

Login using SingPass to choose amount of SingapoRediscovers Vouchers to redeem

5. Generate Voucher Code

Copy the generated voucher code and paste it at the checkout page

6. Checkout within 10 minutes

Complete the checkout process within 10 minutes and enjoy your SingapoRediscovers experience at Sentosa.
Physical Counter at VivoCity, Level 3
Still unsure? It's easy peasy with our dedicated counter. Our friendly staff will assist you to redeem your SingapoRediscovers Vouchers and make a reservation at your preferred Sentosa attraction or hotel all at once!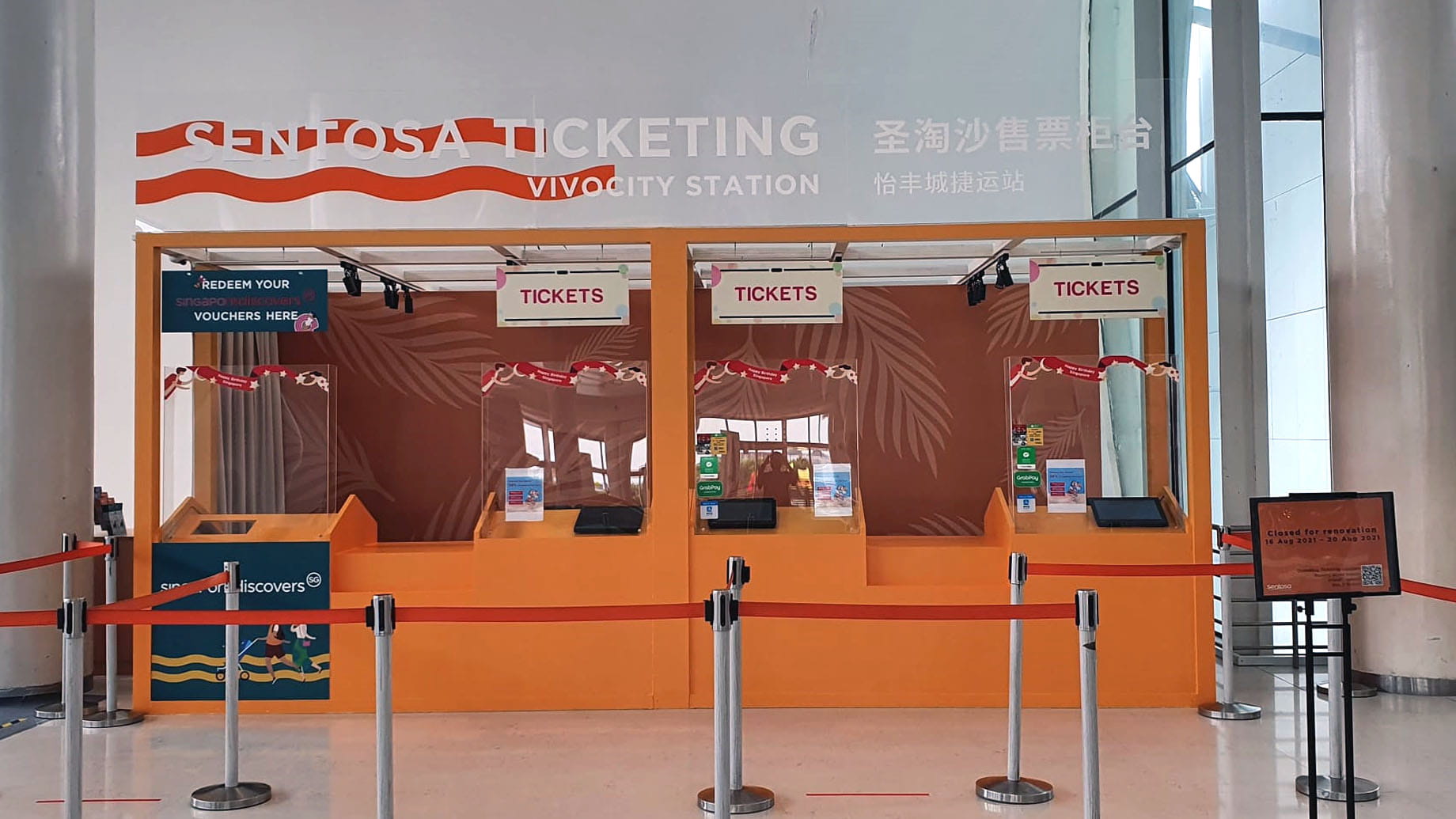 • Location: VivoCity, Level 3
• Operating Hours: 10am - 6pm (on Friday to Sunday, and Public Holidays only)
• Counter will be open from 17 September 2021 to 31 December 2021.
• Accepts SingapoRediscovers Vouchers, Credit Card, Cash and Nets.
WHO CAN REDEEM THE VOUCHERS
All Singapore Citizens aged 18 and above in 2020 are eligible for $100 SingapoRediscovers Vouchers, and you can use them in full or in denominations of $10 to book approved hotels, and attractions.
You are also entitled to purchase up to six subsidized child or youth tickets for attractions and tours if you have family members under the age of 18. For those who need help with digital transactions, physical counters will be set up island-wide to provide assistance.
CHECK OUT THESE SRV ELIGIBLE EXPERIENCES
Cable Car Sky Pass (Unlimited) with Arbora/Good Old Days Meal from $26
Highlights:
• Enjoy unlimited cable car rides on both the Sentosa Line and Mount Faber Line and enjoy a sumptuous meal at Arbora Hilltop Garden & Bistro or Good Old Days
• Get around Sentosa and Mount Faber with ease with the Cable Car Sky pass
• Go where your heart desires without worry as you have unlimited rides for the day!
• Opt for the retail gift bundle for a memorable and unique souvenir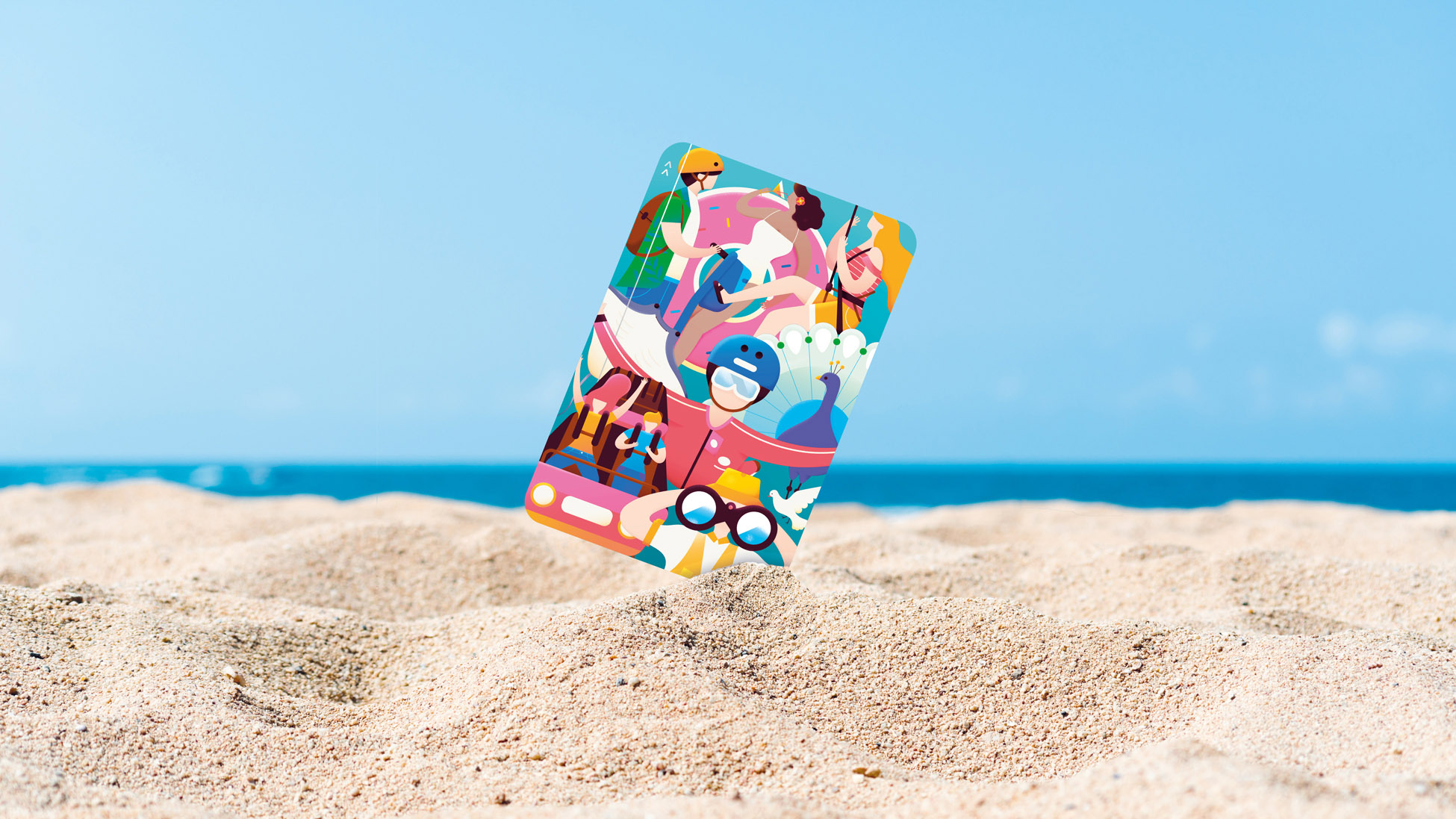 Sentosa Fun Pass: 130 Tokens at $100
Highlights
• Have a great time with friends and family with the Sentosa Fun Pass
• Enjoy a wide range of attractions, F&B, and retail on Sentosa Island with just 1 ticket
• Visit top attractions like S.E.A. Aquarium, Singapore Cable Car, HeadRock VR, and more
• Fit all your chosen attractions in 1 day or spread them out over 2 days
GoGreen Segway® Fun Ride 800m + Metal Straw Set at $25
Highlights
• Cruise along sunny Palawan and Siloso beach with your friends or family effortlessly on a Segway Personal Transporter!
• Book your preferred slot today and embark with our safety instructor on this incredible journey that takes you along Sentosa's sun-kissed beaches.
• Trainers are always on hand to assist you and in a matter of minutes, you will master this futuristic self balancing device.
• Over a million riders have tried the Segway Fun Ride and we welcome you to join us for this fun and safe experience!
What are SingaporeRediscovers Vouchers?
The SingaporeRediscovers Vouchers are credits that Singapore citizens can be used at hotels, attractions and tours to support tourism businesses.
Who will get the SingapoRediscovers Vouchers?
All Singapore Citizens aged 18 and above in 2020 are eligible for $100 Vouchers in denominations of $10 which will be valid for redemption from 1 December 2020 to 30 June 2021.
How much SingapoRediscovers Vouchers will I get?
All eligible Singaporeans will receive $100 worth in $10 denominations.
How will I get these SingapoRediscovers Vouchers? Is it a physical voucher?
You can redeem your SingapoRediscovers Vouchers through an authorised booking partner like Klook, with the use of SingPass.

I don't have a SingPass account. Do I still get the SingapoRediscovers Vouchers?
All Singaporeans are encouraged to sign up for a SingPass account to redeem their SingapoRediscovers Vouchers. You can sign up here.
When can I start using these SingapoRediscovers Vouchers?
You can start using them starting from 1 December 2020 once they are issued. The vouchers are valid till 30 June 2021 to cover the school holidays.
Where can I use these SingapoRediscovers Vouchers at?
You can head to the five authorised booking partners five authorised booking partners –
Klook.com
,
Traveloka
,
Changi Recommends
,
Trip.com
,
GlobalTix.com
– to book hotels, attractions, and tours from hundreds of eligible merchants.
What about my kids? Will they get SingapoRediscovers Vouchers too?
Those under 18 will not receive the $100 SingapoRediscovers Vouchers. Fret not. Those with at least one family member below 18 years old will be eligible to enjoy $10 subsidy for up to six child/youth tickets.

Does this mean I have to use my own SingapoRediscovers Vouchers to buy tickets for my kids?
This additional $10 subsidy for child/youth tickets is on top of the $100 SingapoRediscovers Vouchers that will be issued to you.
Can I use all $100 at the same place?
Yes, you can use the SingapoRediscovers Vouchers in denominations of $10, up to $100 per transaction.
Can I combine my SingapoRediscovers Vouchers with others to make a purchase?
The SingapoRediscovers Vouchers cannot be stacked or combined with the SingapoRediscovers Vouchers of another individual to buy the same product.
Can the SingaporeRediscovers Vouchers be used on F&B and retail?
No, the SingaporeRediscovers Vouchers are designed to help the core industries of tourism such as hotels, attractions and tours and are not applicable to F&B and retail.