Nature Guide
SENTOSA TURTLE ENCOUNTERS
Despite being one of the busiest ports in the world, our Singapore shores are still visited by the critically endangered Hawksbill Turtle (Eretmochelys imbricata) and endangered Green Turtles (Chelonia mydas).
Female turtles start coming on our shores to lay eggs from June to October each year, and some land at Sentosa's beaches.
Watch these videos of our most recent turtle encounters!
Hundreds of critically endangered hawksbill turtles hatch on Sentosa | Sentosa Stories
Finding a mother Hawksbill Turtle laying her eggs at Tanjong Beach in July 2019 was an exciting event for the Sentosa Team! Over the weeks, we monitored the nest till the eggs finally hatched in September, and about a hundred baby turtles climbed out. The team measured and weighed the baby turtles before preparing for their release back to sea.
Turtle hatchlings at Sentosa Singapore
The baby turtles had their very own "runway" to the water at Tanjong Beach. The excited audience on the sides witnessed how these helpless juveniles found their way to the sea, hopeful that some of them will return to Tanjong Beach to lay their own eggs when they are mature. The last turtle hatching on Sentosa was in September 2019, and this is the fifth turtle hatching here since 1996.
The future of Hawksbill Turtles
A critically endangered species worldwide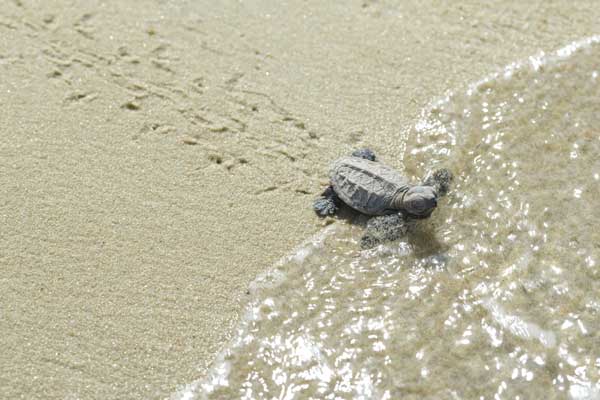 Hawksbill Turtles have a low survival rate of only 1% that means only about 10 baby turtles out of 1000 will reach adulthood!
After the eggs are laid and buried in their sandy nest, they are in danger of being dug up and eaten by natural predators like Water Monitor Lizards. After they have hatched, many baby turtles are eaten by shore birds, crabs and other animals even on their maiden journey from the nest to the sea, and in the water, fishes await a turtle meal.
Sometimes, the baby turtles are confused by lights in coastal areas and head inland instead of towards the sea.
In the "hidden years", when they grow into adults in the seas of Southeast Asia, many are caught in fishing nets as bycatch; or choke or starve to death after ingesting plastics, which could resemble jellyfish.
Turtles have also been killed or maimed in high boat traffic areas. Hawksbill turtles are especially hunted for their beautiful shell plates, known as "tortoise-shell". This is used for making jewellery and luxurious items.
Furthermore, the collection of their eggs for human consumption, as well as coastal development, especially the destruction of coral reefs (where they find food and shelter) and beaches (where they nest), have also greatly affected their survival.
What can we do to ensure the Hawksbill Turtle's survival?
Hawksbill Turtles are an internationally protected species under Convention on International Trade in Endangered Species (CITES) of Wild Fauna and the Convention on Migratory Species.
Conservation of Hawksbill Turtles involves an international effort to protect both their feeding sites and their nesting sites.
Nationally and regionally, we can:
Respect these agreements and regulations and not contribute to the trade in these turtles.
Control indiscriminate fishing and other pollutive human activities.
Protect crucial habitats, especially coral reefs and beaches.
What can I do?
Prevent plastics and rubber from entering the sea: reduce one-time plastic use, throw personal rubbish (e.g. mineral water bottles and food containers/plastic) properly into bins, refrain from releasing balloons.
Say "no" to buying any products or eating any food that endanger turtles or other marine animals (e.g. not buy tortoise shell jewellery or eat turtle eggs)
Keep the beaches clean. Fill in dug out holes during sand play and knock down sand castles, so as not to create obstacles for nesting turtles or emerging baby turtles.
Be our extra eyes when you are at the beach!
Here are the ways you can help protect turtles should you spot any turtles, turtle tracks or nests on Sentosa's beaches: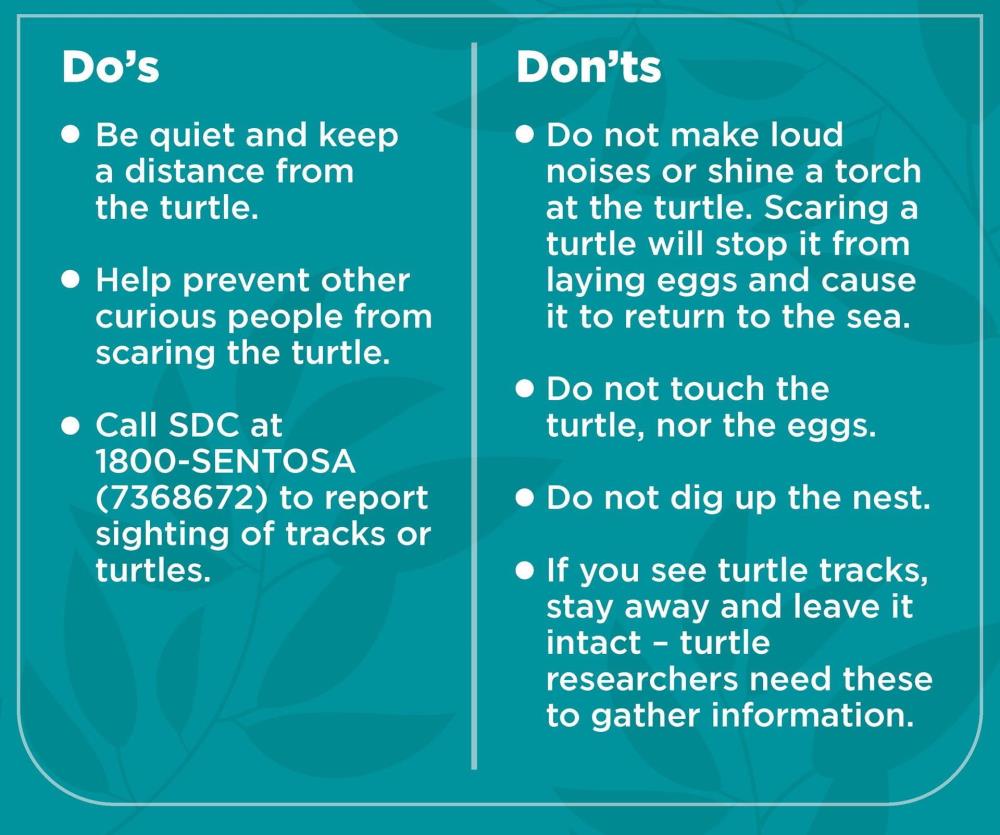 More about the tracks of Hawksbill Turtles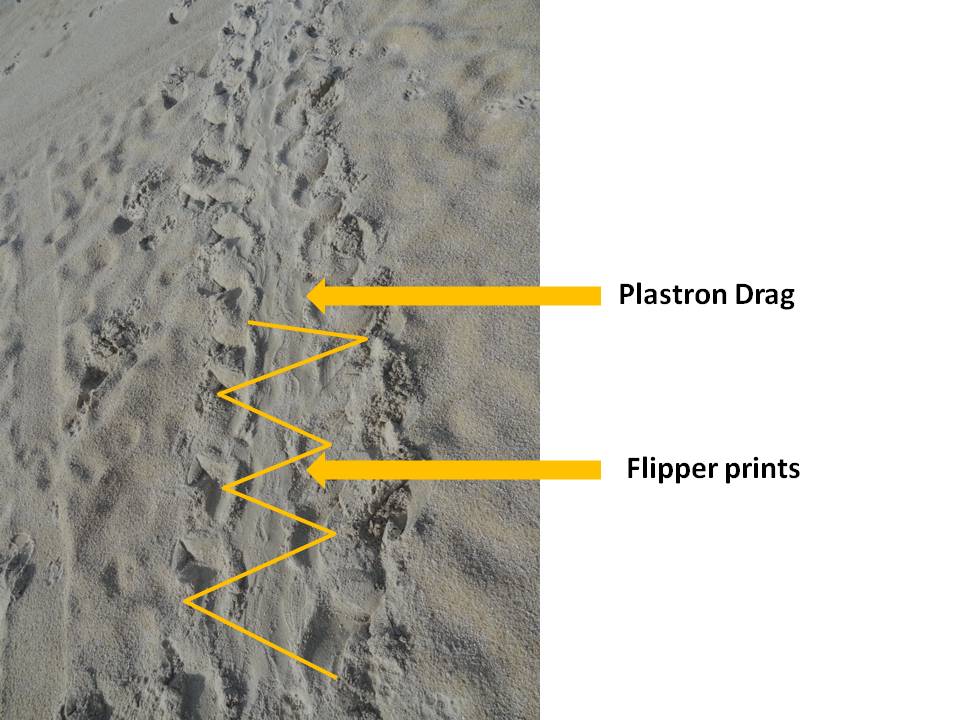 Hawksbill turtles have an alternating gait, where the flipper marks are alternate. The flat area in the middle of the track represent the plastron drag – the drag marks made by the flat shell on the turtle's underside.
Staying Safe and Caring for Nature
Stay safe when exploring nature on Sentosa and do your part by following these Nature Area Guidelines
For further enquiries, please email nature@sentosa.com.sg.
For emergencies, contact 1800-RANGERS (1800-726 4377)