Nature Guide
SENTOSA'S BEACH LIFE
The Three Main Beaches on Sentosa

The three main beaches: Siloso Beach, Palawan Beach and Tanjong Beach, are along the southern coast of Sentosa island. Beyond the lagoons and rock bunds that separate them are fringing coral reefs.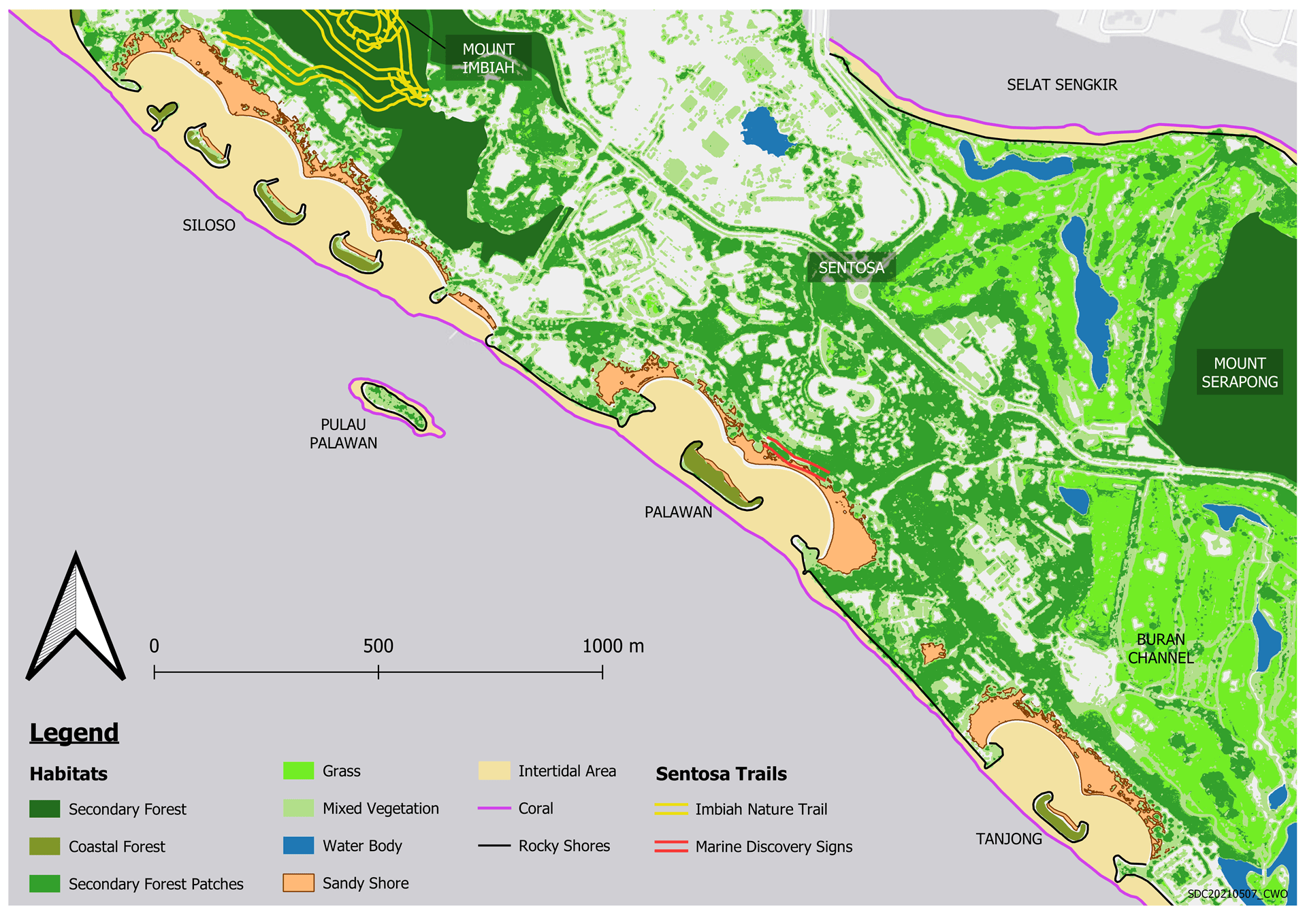 ROCKY SEASHORE - ROCK BUNDS
These beaches represent the sandy seashore habitat. The tide rises and falls about twice a day, affecting marine life in the lagoon. Leading to a high tide, the water currents bring nutrients, plankton and animals into the lagoons. When the tide is low, the sandy seashore becomes more extensive, revealing the many sandy shore animals living here.
Smooth-Coated Otter
The Smooth-coated Otter (Lutrogale perspicillata) is the largest otter in Southeast Asia, and is named after its velvety smooth coat. They live in social groups and have made Sentosa one of its homes. We can care for them by keeping our distances when we observe them, and by not scaring or feeding them.
Striated Heron
Waiting patiently for fishes that come close to the shore are the Striated or Little Heron (Butorides striata). They live near waterbodies, including coastal areas, reservoirs, freshwater wetlands and mangroves.
Soldier Crab
This small species of Soldier Crab (Dotilla wichmani) is a common species on our shores. Soldier Crabs eat the tiny living things on the surface of sand grains. The crabs scoop sand to their mouth, sieve off food from them, and then form the sand into small sand balls, which they lay in a pattern around their burrows. Larger sand balls are formed when they excavate their burrows.
Dubious Nerite
This tiny Dubious Nerite (Clithon oualaniensis) are about 5mm across, and are often found on the sandy edges in the lagoons. They can occur in large numbers, slowly grazing on the algae. They are listed as 'Vulnerable' on the Red List of threatened animals of Singapore. Observe their diverse patterns of this single species of snail, but refrain from removing them from their natural habitat.
Staying Safe and Caring for Nature
Stay safe when exploring nature on Sentosa and do your part by following these Nature Area Guidelines: https://www.sentosa.com.sg/en/get-inspired/nature-area-guidelines/

For further enquiries, please email nature@sentosa.com.sg

For emergencies, contact 1800-RANGERS (1800-726 4377)