Food Guide
HOW TO HAVE A GRILLIN' GOOD TIME AT SENTOSA GRILLFEST 2020 FROM THE COMFORT OF YOUR HOME
Enjoy the most exciting food event on the island, from the comfort of your home

Making the most of the 'new normal' is Sentosa GrillFest 2020, the HOME edition. Changing it up from the typical food festivals of the past, almost every aspect of this food extravaganza can be enjoyed from the comfort of your home. There is lots to eat, lots of cook, lots to learn and an exciting new format.

From 29 October to 22 November, expect a packed calendar of live events, cooking demos and interactive experiences to immerse yourself in. Here is the complete guide to GrillFestin' at home.
Island-wide delivery of festival special dishes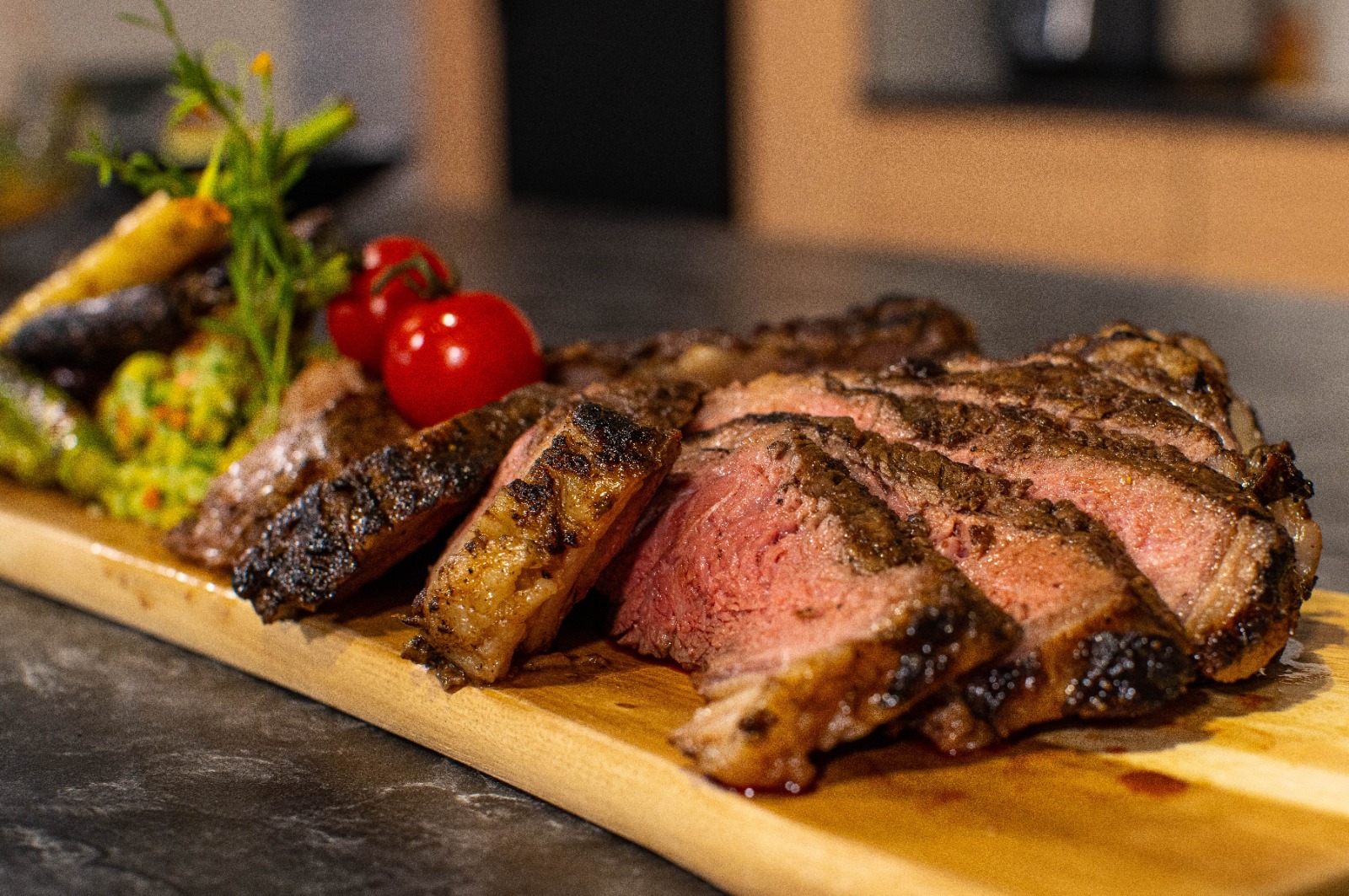 For Sentosa GrillFest 2020 - the HOME edition, there are 80 mouth-watering treats that include juicy burgers, grilled platters, BBQ delights, and more that will reach your doorstep with island-wide delivery.

There are a variety of specials by the Singapore Chefs' Association, such as the steamed cheong fan with grilled beef, mala sauce, coriander and peanuts ($12), Char Grilled Marinated Octopus with Handmade Spicy Green Pesto ($20) and Seafood Laksa Linguine ($18). And not to mention the tantalising lineup from gourmet food purveyors Angliss which includes dishes such as the Kentucky Bourbon BBQ pork ribs (slow-roasted and smoked for over 3 hours, $22), and Lobster Roll ($24).

Plus, most of the Sentosa restaurant specials can also be ordered via home delivery. Take a look at http://bit.ly/sentosgrillfesteats for the full list of eats and our picks of the 10 must-tries at Sentosa GrillFest.
Grill-It-Yourself Kits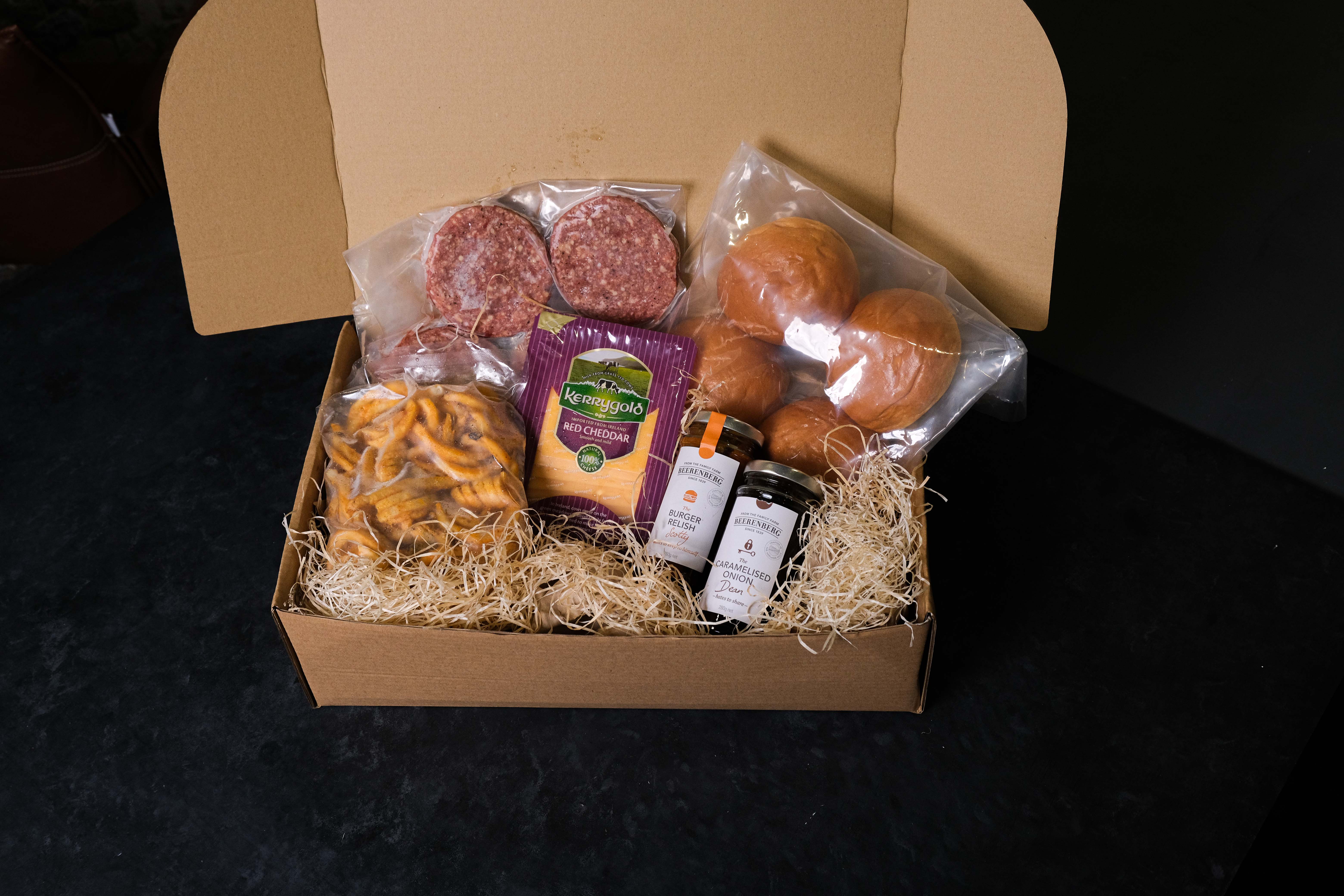 The perfect solution for those who have chef aspirations are the Grill-it-yourself kits from Angliss.
The ingredients are top-notch and the convenient kits take all the guesswork out of ingredients, portion sizes, condiments and seasonings.
There are four kits to choose from and options include the Perfect Burger GIY Kit, that comes with four Angus truffle burger patties and four brioche buns, plus 280g each of caramelised onion, burger relish and slices of cheddar cheese. All you need to do is grill it, assemble it and devour it.
There is an all-meat, mixed grill kit that is great value at $75, for a kit that includes USDA (CAB) prime ribeye steak (300g), Kurobuta pork rack chop (300-400g), Lamb loin (boneless, cap on, 200g) and a portion of D-I-Y Risotto funghi 1.5kg.
For more details, take a look at http://bit.ly/sentosagrillfesteats
LIVE! Cooking Classes and Talk Shows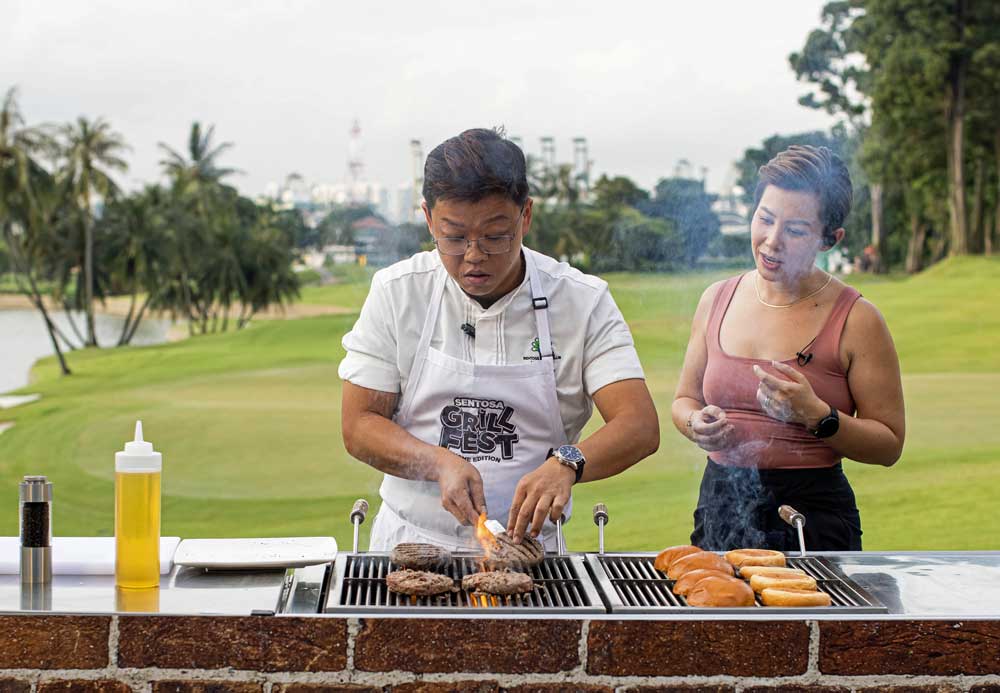 On Tuesdays from 6-7 pm in the evenings, tune-in to Lazlive on the Lazada app to watch cooking demos and classes hosted by Kelly Latimer as she gets the top chefs of Sentosa GrillFest to share their personal tips and tricks while taking the audience step-by-step through the cooking process.

Learn how to cook the many of the GrillFest dishes on offer; classes will also feature the Angliss Grill-It-Yourself Kits and pro-tips on how to grill them to perfection.

Dates and Time: 20 & 27 October 2020, 3, 10 and 17 November 2020, 6pm to 7pm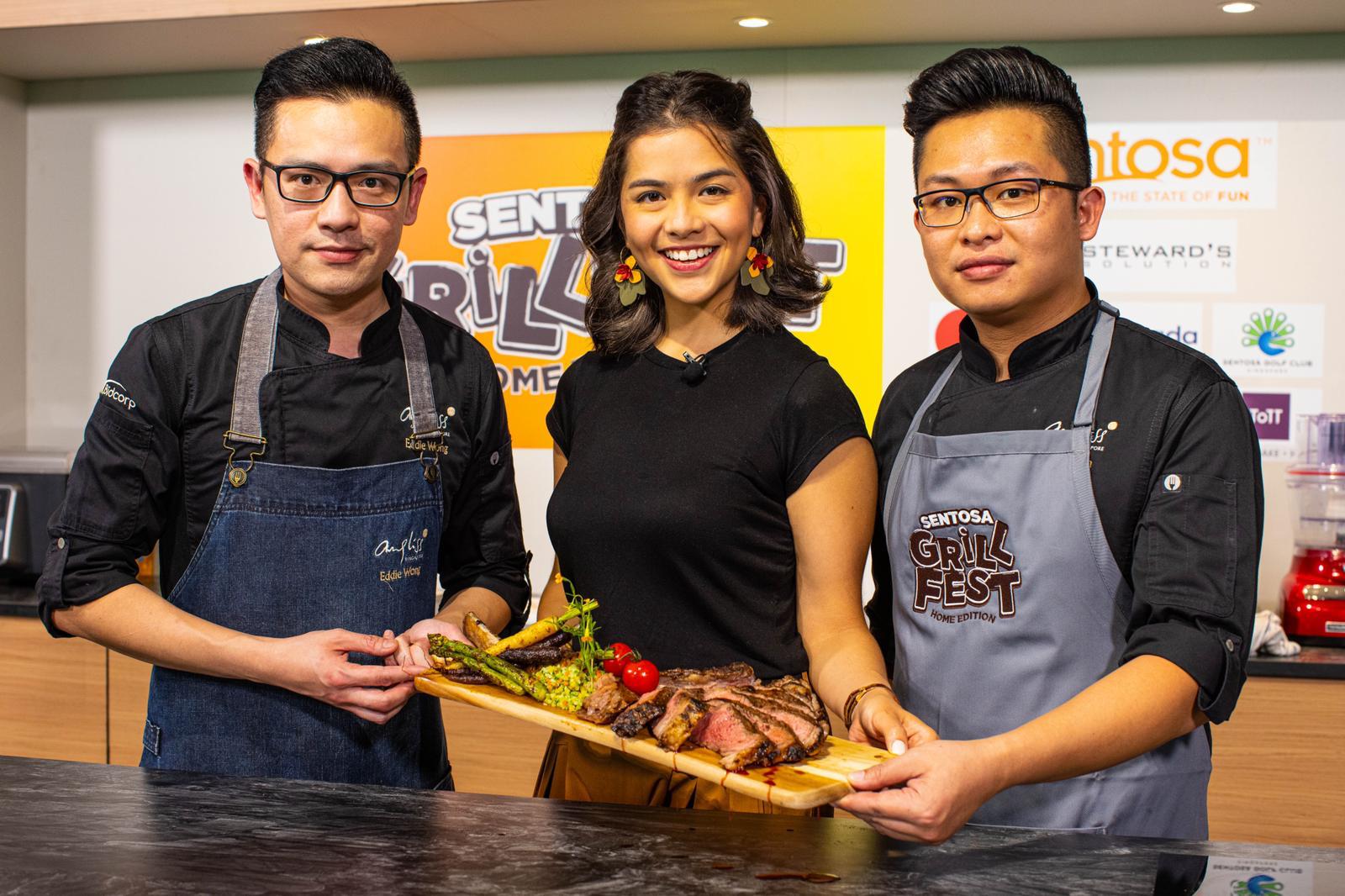 Apart from these, also on Lazlive are talk shows featuring grilling hacks and fun food challenges hosted by Charlotte Mei (@thecharlottemei) and the top chefs of Sentosa GrillFest.

Watch chefs like Tony Khoo, Corporate Executive Chef of the Pan Pacific Hotel Group, and Chef Eric Neo, SCA President and Executive Chef of InterContinental Singapore, in action.

Dates and Time: 29-31 October 2020, 1, 5-8, 12-15 and 19-22 November 2020
5pm to 6pm on Thursdays and Fridays

For more details, click here

All the 'live' content from Sentosa GrillFest can be accessed via the Sentosa GrillFest's LazMall Flagship Store
Gourmet food in a FLASH!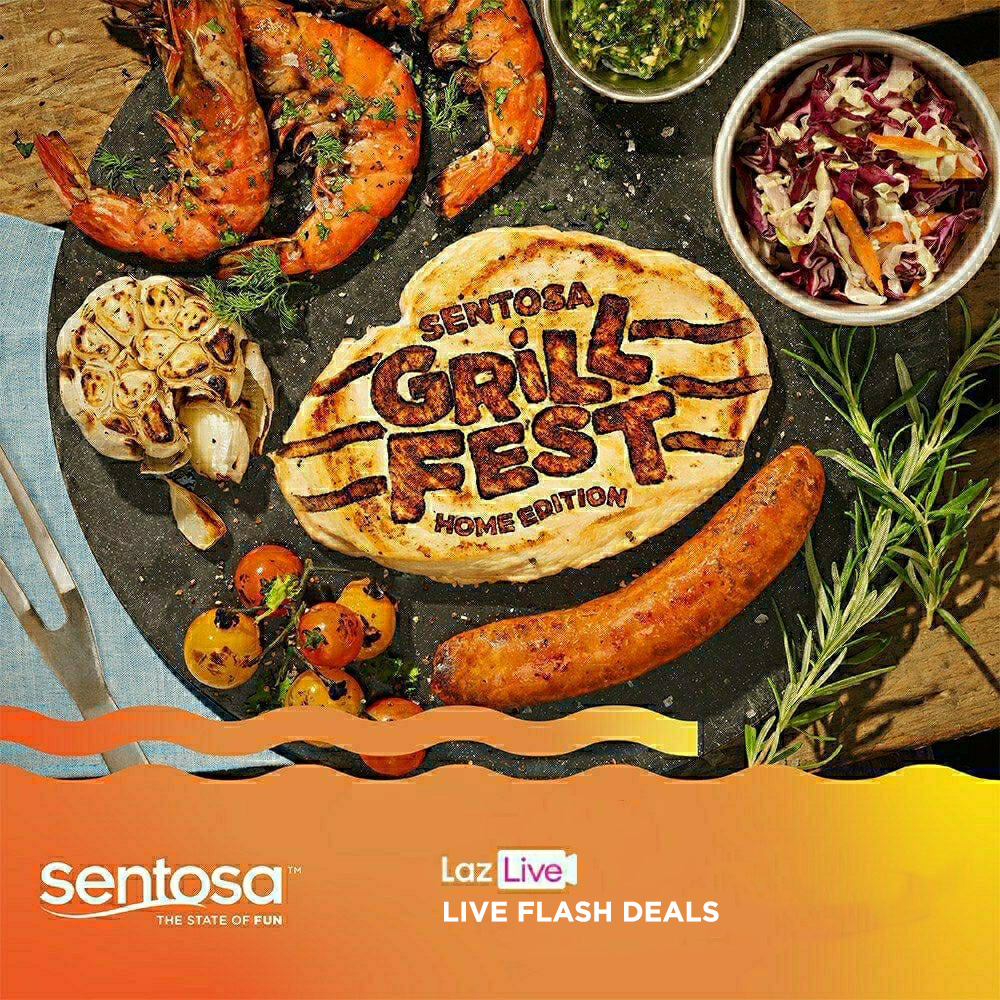 With all that talk about gourmet, grill-ready food and delicious ingredients you are going to want to get your hands on some great products.

There are flash sales and fabulous discounts on Angliss' gourmet marketplace on Sentosa GrillFest's LazMall Flagship Store.

Additionally, you can tune into Angliss Singapore's Facebook page for 'live' content and hot deal featuring speciality gourmet products such as fresh premium meat cuts, seafood and more.

Live streams will be held on Angliss Singapore's Facebook page on Tuesdays (8pm to 10.30pm), Thursdays, (8pm to 10.30pm) and Saturdays (3pm to 5.30pm).
---
By Priyanka C. Agarwal
Priyanka C. Agarwal is a writer, communicator and content creator with several years experience in print and digital media. She writes about food, travel, parenting and other adventures. Her work has appeared in the print and online pages of Silver Kris magazine, Time Out Singapore, Her World magazine, The Michelin Guide, The Peak and HungryGoWhere.com, among several others. She is a mother to two tiny gourmands and an experimental home cook who hopes one day, to author her own cookbook.