People & Social
DJ JULIAN JORDAN CAN'T WAIT TO PARTY WITH YOU AT SILOSO BEACH PARTY 2019
International club sensation DJ Julian Jordan talks about surprising EDM fans and fan interactions that surprised him.
If you love heart-pumping electronic dance music, you've probably heard a tune or two by super up-and-coming DJ and producer Julian Jordan. The ascent of 90s kid Julian Jordan began when he produced his first song, "Yxalag", at age 14.
Born Julian Dobbenberg, the Dutch prodigy was already displaying a strong affinity toward various musical instruments around the age of 5. Before he had graduated from high school, he was already signed to big time label Spinnin' Records. He signed to Hardwell's record label, Revealed Recordings, in 2016, before starting own outfit, Goldkid Records, shortly after.
Turning only 25 this coming year, Julian Jordan has played residencies in prestigious clubs like Omnia in Las Vegas and is ranked number 93 among DJ Mag's Top 100 DJs of 2019, just above Singapore's very own Rave Republic.
He has enjoyed chart success around the world with his solo hits, along with bangers that he made in collaboration with electronic legends like Sander van Doorn and close friend Martin Garrix. In between shaking up the global electronic music scene, this rising star found the time to chat with us about his impending set at the Siloso Beach Party 2019.
Hi Julian, how's it going? Where in the world are you right now?
I'm amazing right now. I'm in STMPD studios (in Amsterdam) right now working on new music!
Which countries have you been playing in recently? Are you excited to come to Singapore?
I just came back from Canada and it was so amazing – two arena shows and the response was incredible. Coming back to Singapore feels like a dream. My last time was amazing and can't wait to show Singapore what I've been working on!
You've just played Tomorrowland 2019 and been ranked on DJ Mag's top 100 DJs. What other fond memories and milestones do you hold close to your heart?
One of the things I'm still so proud of is the first time I got to play on the Ultra Miami mainstage. It was a dream come true. I had a flashback to when I was young in my bedroom watching the livestream, and just a few years later, there I was playing on the mainstage! It felt incredible.
What is it about the Netherlands that nurtures so many talented DJs?
I think the bad weather! Everyone stays inside and has time to work on music in the studio! (laughs) To be honest, I think we have dance music in our culture.
Speaking of party culture, do you have any crazy party stories and gig experiences that you can disclose to us?
Every time I go on tour, I have new crazy party experiences! I do have to say that one of the craziest experiences was when a fan made a stuffed animal version of me! She gave it to me at the airport and I was super surprised. It's still in my home!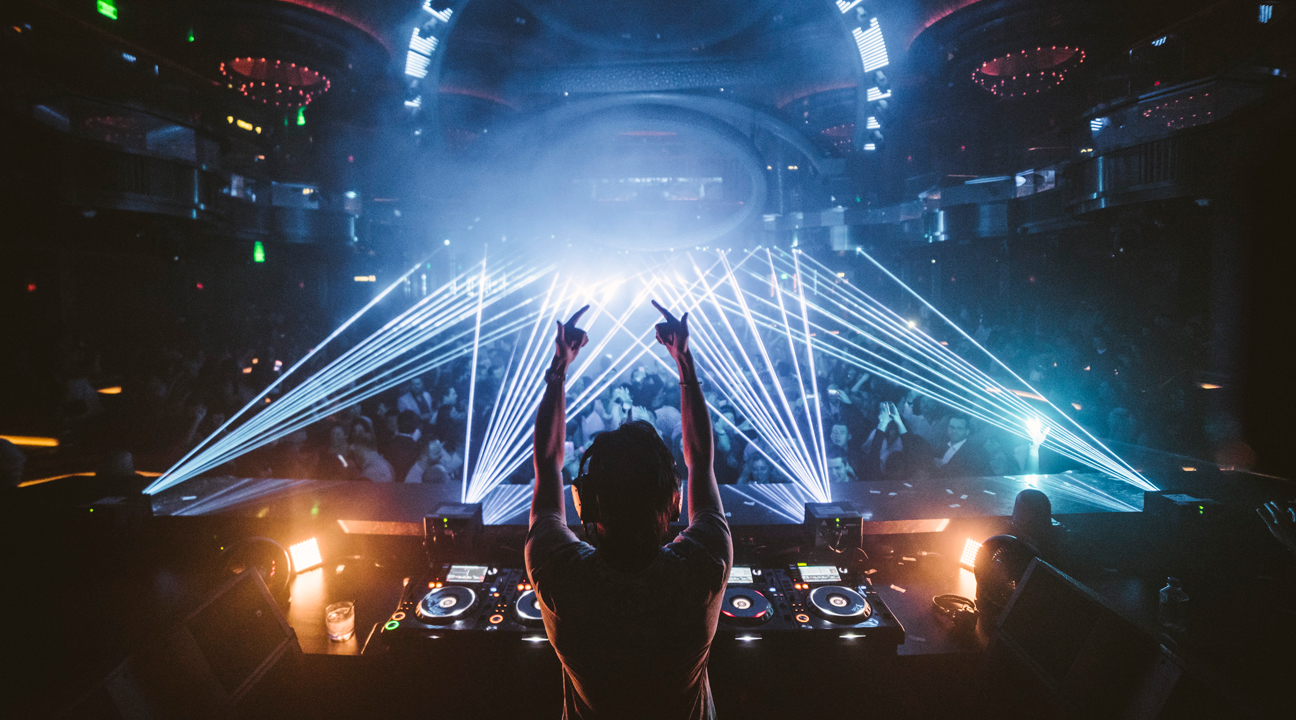 Julian Jordan at OMNIA. Photo: Aaron Garcia
What ingredients go into a great concert and great party?
Positivity, energy and good music are the key! For me, it's important to give 1000% every single show. Regardless of whether I'm playing in a club with 200 people or at a festival with 40,000, I want to give the same energy every single time!
We can't wait to experience that energy! Are you planning anything special for the Siloso Beach Party 2019?
Well, I've been working a lot on new music and, especially now, I'm finishing up some brand-new heat for you guys – wink wink – so expect some very special and exclusive tracks!
What is it about the electronic dance music scene that inspires you and keeps you making new music?
What inspires me is how creative all producers in our scene are. We are not just 'producers', but we are each a 'one-man band'. We have to think about everything in a track. From bassline to lead, from kick to arrangement. There're not many musicians in this world who can do that.
Who have been your favourite musicians to work with? Is there anyone you would like to work with in particular?
I love working with Tom Martin. He is such an incredible producer and songwriter. I've been working with him for a while now and he is one of the most talented guys I know. Also, I just started working on a track with Guy Arthur – a super dope upcoming DJ and producer! I would love to work with Tiesto or maybe a rapper like A$AP Rocky one day.
What are your plans for 2020 and what's next for DJ Julian Jordan?
(exclaims) A lot of next-level music! My plan is to show the world what I've been working on this year and it's too much exciting stuff. I have to say that the past year was just the start. Now it's go-time. 2020, be ready for me.
Don't miss Julian Jordan at Siloso Beach Party 2019. Get your tickets now!
---